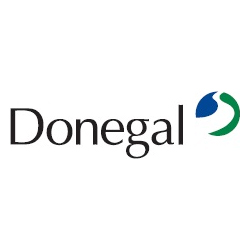 Donegal Investment Group plc ("Donegal Investment Group" or the "Company")
The Company wishes to announce that it will publish its Financial Report for the eight month period ended 31 August 2016 on 12 April, a copy of which will be sent to all shareholders and will be available on the Company's website.
By way of further update, all our businesses are currently on plan for the first half, September 2016 to February 2017, of our new financial year, September 2016 to August 2017. We are satisfied with the performance of our produce seed potato business which is now benefitting from the initiatives introduced during 2015 and early 2016 and as first advised in our 2015 preliminary results announcement.  Our Food-Agri businesses and in particular our speciality dairy business, while continuing its strong volume growth remains challenged by trading conditions post Brexit and the resulting impact on sterling.  We will provide guidance on our expected out turn for our new year-end at the appropriate time later in the year.
The Board has taken the decision to discontinue the payment of dividends for the foreseeable future with the view of, subject to the requirements of the Company's businesses, returning capital to shareholders in the more tax efficient form of a share buy-back programme. The timing and scale of any share buybacks are dependent on the requirements of the Company's businesses, completion of our non-core asset disposal programme as well as the finalisation of the Monaghan Mushrooms legal case.
Interim results to 28 February 2017 will be made available on 27 April 2017 with the 2017 AGM scheduled to be held at The Silver Tassie Hotel, Ballymaleel, Ramelton Road, Letterkenny, Co. Donegal at 11:30 a.m. on Wednesday, 24 May 2017.
END
| | |
| --- | --- |
| Donegal Investment Group |   |
| Ian Ireland, Managing Director | Telephone: + 353 74 912 1766 |
| Investec |   |
| Jonathan Simmons, Director | Telephone: + 353 1 421 0000 |