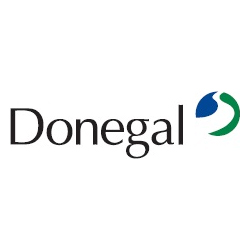 Donegal Investment Group plc ("Donegal Investment Group", the "Group", or the "Company")
7 September 2020
Share Option Scheme
 Donegal Investment Group has in place a share option scheme for management and employees.  The share option schemes adopted on 27 July 2005 and 1 July 2015 currently has twenty participants, or option holders, with options over 64,499 Ordinary Shares of nominal value of €0.13 each ("Share Options") at a weighted average exercise price of €1.46 per share option.  As part of the recent return of capital 18,458 share options were cash settled such that 64,499 share options remain outstanding as at the date of this announcement.  The Remuneration Committee of the Board of Donegal Investment Group has decided that all outstanding share options are to be either:(1) Cash settled, in accordance with the terms of the share option scheme, at a price per share of €12.50; or (2) Exercised by the underlying option holders at the relevant exercise price.  Share Options exercised, as opposed to cash settled, shall be satisfied by existing Treasury Shares held by the Company. Thereafter, there will be no outstanding Share Options unless the Remuneration Committee determine that new Share Options should be granted to any management or employees of the Group. Six persons discharging managerial responsibilities ("PDMRs") hold 45,198 Share Options, of which, Donegal Investment Group Managing Director, Mr. Ian Ireland, holds 25,198, at an exercise price of €0.31 per share option.  Mr. Ireland has exercised all his share options, following which he will hold 105,460 Ordinary Shares in the Company representing 3.73 per cent of Ordinary Shares outstanding. 
PDMR
Role
No. of Share Options
Cash Settled
Exercised
Ordinary Shares Held1

Ian Ireland

(Company Director)

Group Managing Director

 

25,198

Nil

25,198

105,460

Padraic Lenehan

(Company Director)

Group Finance Director & Company Secretary

10,000

10,000

Nil

Nil

Vincent Harrison

Group IT Director

833

833

Nil

Nil

Marcel De Sousa

IPM Managing Director

3,333

3,333

Nil

1,080

Alan Cunningham

Nomadic Dairies Managing Director

5,000

5,000

Nil

4,304

Cathal Doherty

Nomadic Dairies Finance Director

833

833

Nil

Nil
Note 1: Post exercise of Share Options The total cash settled Share Options amount to 31,668 across sixteen participants at a total net cost to the Company of €362,144.  The total exercised share options amount to 32,831 across the remaining four participants at a weighted average exercise price of €0.75 for which the Company received exercise proceeds of €24,734 from the four exercising option holders. 
Following the exercise of Share Options as described above, the Company has a total of:
2,895,958 Ordinary Shares in issue;

67,169 Ordinary Shares held as treasury shares; and

2,828,789 Ordinary Shares outstanding.
Enquiries:
| | |
| --- | --- |
| Donegal Investment Group |   |
| Ian Ireland, Managing Director | Telephone: + 353 74 91 21766 |
| Investec |   |
| Jonathan Simmons, Director | Telephone: + 353 1 421 0000 |