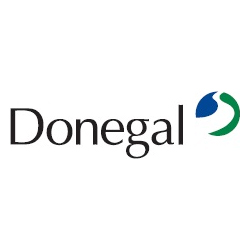 Donegal Investment Group plc ("Donegal Investment Group" or the "Company")
4 July 2017
Non Core Asset Disposals
The board of Donegal Investment Group plc announces that it has completed the sale of the 2,400 acre Grianan Estate and associated assets, at Speenogue, Burt, Co. Donegal to Glenmore Estate Farms Limited. The consideration of €17.425 million was satisfied in full by cash on completion, subject to customary escrow arrangements.
During the 12 month period ended 31st December 2016 the company earned net income of approximately €290,000 from the disposed assets.
The board also confirms that on the 26th June 2017 the company completed the sale of its non-core Chef in a Box business, a UK based premium sandwich business.
These disposals represent further progress on the board's strategy to realise value from non-core assets.   
Enquiries:
Donegal Investment Group

Ian Ireland, Managing Director

Telephone: + 353 74 912 1766

Investec

Jonathan Simmons, Director

Telephone: + 353 1 421 0000

Drury

Paddy Hughes

Telephone:  +353 1 260 5000