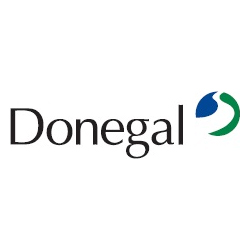 Donegal Investment Group plc ("Donegal" or the "Company")
3 July 2019
Donegal Investment Group plc agrees to dispose of its Animal Feed Business, including its stevedoring subsidiary, to Fane Valley Co-Operative Society Limited
The Board of Donegal Investment Group plc ("Donegal" or the "Company") wishes to announce that it has reached agreement to dispose of its animal feed business, Robert Smyth & Sons Limited ("Smyths") and its subsidiary companies, including its subsidiary company Burke Shipping Services Limited ("Burkes"), (together the "Businesses") to Fane Valley Co-Operative Society Limited ("Fane Valley") (the "Proposed Transaction"). This is in line with the previously announced strategic review of the Company's various businesses and assets.
Smyths Animal Feed Business
Smyths engages in the manufacture of high quality animal feeds from one of Ireland's most modern production facilities in Ballindrait, Co. Donegal. The Business supplies branded and un-branded feed products for ruminant and monogastric animals including Beef, Dairy, Sheep, Pig and Poultry across the north and northwest of Ireland.
Burkes
Burkes, an accredited Independent Port Agency business based at Lisahally Port, provides port agency, stevedoring, warehousing and customs clearance services to a range of clients in respect of the importation and storage of agricultural raw materials, coal, glass and other bulk cargo materials.
Proceeds of the Proposed Transaction
On Completion, Fane Valley shall pay Donegal cash consideration of €17.25m, on a cash and debt free basis and subject to any adjustment in respect of actual completion working capital versus the agreed target working capital.
Other
In the last financial year-end 31 August 2018 the turnover, gross assets, net assets and profit before tax attributable to the Businesses were respectively, €35,549,100, €21,841,515, €16,332,232 and €1,989,461.
Completion of the Proposed Transaction is subject to approval by the Competition and Consumer Protection Commission.
The proceeds from the Proposed Transaction will be used by Donegal for general corporate purposes.
Commenting on the Proposed Transaction Ian Ireland, Managing Director of Donegal, said:
"We are pleased to announce that we have agreed to sell our animal feed business Robert Smyth & Sons Limited and subsidiaries to Fane Valley Co-Operative Society Limited. We wish the Businesses, their employees and management, and their new owners Fane Valley, every success in the future. We will continue to support the growth plans of our specialty dairy business Nomadic as well as continuing the strategic review of the remaining businesses and assets of the Company with the objective of maximising value for all shareholders."
End. Enquiries: 
Company

Telephone: + 353 74 912 1766

Ian Ireland, Managing Director

Padraic Lenehan, Finance Director

 

Investec

Telephone: + 353 1 421 0000

Jonathan Simmons, Director