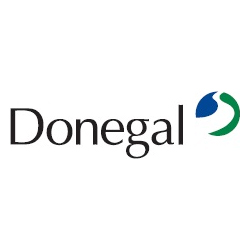 Donegal Investment Group plc ("DIG" or the "Company")
29 July 2016
As advised previously, the Company took a shareholder oppression claim relating to its shareholding in Elst (the unlimited holding company of the Monaghan Middlebrook Mushrooms business) ("Monaghan") (the "Oppression Action"). The respondents (being the majority shareholders in Elst) ("Respondents") admitted specified and unspecified acts of oppression and on 21 May 2015, the Commercial Court (a division of the Irish High Court) ordered the Respondents to purchase the shares held by the Company in Monaghan (the "Donegal Shareholding") (the "Remedy").
The Company appealed the valuation placed by the Commercial Court on the Donegal Shareholding in Elst (€26,228,570) ("Valuation Appeal") and the Remedy ("Remedy Appeal") to the Court of Appeal.  The Court of Appeal gave judgment on 8 June 2016 in relation to the Valuation Appeal and the Remedy Appeal.  The Valuation Appeal was successful and the Court of Appeal has remitted the Valuation of the Donegal Shareholding back to the Commercial Court to determine the price at which the Respondents shall purchase the Donegal Shareholding (the "New Hearing").   It is expected the New Hearing will conclude before the end of 2016.
The Court of Appeal upheld the Remedy granted by the Commercial Court, the Remedy being that the Respondents buy out the Donegal Shareholding, save in relation to the precise amount which is to be determined in the New Hearing.  The Respondents have sought leave to appeal the successful Valuation Appeal to the Supreme Court.  Whether such leave to appeal will be granted has yet to be determined.  Accordingly, it is not clear when the price for the Donegal Shareholding will be finally determined and the Remedy implemented.  The costs of the Oppression Action and the Remedy in the Commercial Court were awarded by the Commercial Court in mid-2015 in favour of the Company.  The Respondents appealed this decision to the Court of Appeal.  In a judgment on 27 July 2016 the Court of Appeal determined (apart from in one module where the parties agreed costs) that no order for costs should apply to the modules connected to the Oppression Action (including the appeals in the Commercial Court and the Court of Appeal) and that each party should pay its own costs.  The Company had paid for these and other related costs during 2014, which was accounted for in the Company's 2014 Financial Statements.  As a result of the aforementioned award of the costs of the Oppression Action and Remedy in favour of the Company by the Commercial Court in mid-2015, the company accounted for an exceptional gain of €1.8m, and corresponding receivable, in its 2015 Financial Statements.  The Company is currently taking advice on an appeal of this Court of Appeal decision as regards costs.  This will determine the recoverability or otherwise of the €1.8m receivable which is recognised as an asset on the balance sheet of the Company.
The Company will provide a further update at the appropriate time.
END
 Enquiries:
Donegal Investment Group

Ian Ireland, Managing Director

Telephone: + 353 74 912 1766

Investec Bank plc ﴾Irish Branch﴿

Jonathan Simmons, Director

Telephone: + 353 1 421 0351