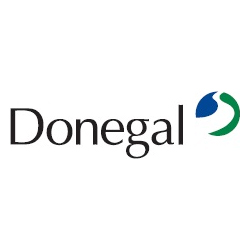 Donegal Investment Group plc ("DIG" or the "Company")
Completion of Settlement, Return of Capital and Strategic & Trading Update
16th February 2018
Completion of Settlement
Further to our announcement of 18 October 2017 concerning settlement of the shareholder oppression claim between the Company and the majority shareholders of Elst Unlimited Company ("Elst") (the "Settlement"), Elst being the holding company of the Monaghan Mushrooms business, DIG confirms today that completion of the Settlement has taken place following receipt of €41,487,808, in cash proceeds on 15 February in accordance with the Settlement.  Under the terms of the Settlement two non-conditional deferred payments are to be received by the Company as follows:
(a) €2,000,000, to be paid on or before 15 February 2019; and
(b) a further €2,000,000, to be paid on or before 15 February 2020,
bringing the total consideration payable pursuant to the Settlement in excess of €45.5m.  The Settlement was approved by shareholders of the Company on 27 November 2017.
Return of Capital to Shareholders
There were a significant number of non-core asset disposals during 2017 including the sale of the Grianan Estate, Chef in a Box and a number of investment property assets located in the Donegal area.  Combined with the receipt of €41.5m following completion of the Settlement, DIG is now in a significant net cash position.  As previously advised the Board has reviewed options to release capital from its non-core businesses and assets and having considered the capital requirements of DIG's businesses the Board announces today that it will commence a return of capital of between €45m and €50m by way of a share buyback tender offer following the release, on 19th April 2018, of its first half results for the six months to 28 February 2018.  Shares will be acquired at a premium to the Company's expected half year, 28 February 2018, net asset value per share, which the Board of Donegal currently estimates will be around €8.30 per share.
As of close of business on 15 February 2018, the Company had 9,570,403 shares in issue.
 Nomadic Business
The Company's speciality dairy business comprising a range of yogurt drinkables and on-the-go breakfast snacks and trading under the Nomadic brand has experienced strong volume growth over the past number of years whilst managing more difficult trading conditions post Brexit and the resulting impact on euro sterling rates.  The Company has an 80 per cent interest in Nomadic Dairies Limited with the remaining 20 per cent held by the founder Biogreen Foods Limited which was part acquired by DIG in 2013.  Following unprompted inbound expressions of interest from potential acquirers, the Board of Nomadic Dairies Limited is reviewing its strategic plans for the business to maximise shareholder value and as such has appointed corporate finance advisers to review available options for the business. 
Trading Update
The Board is satisfied with the performance to date for the first half of 2018 with all its businesses trading to plan.
END
Padraic Lenehan
Finance Director
Donegal Investment Group PLC, Ballyraine, Letterkenny, Co Donegal
Main Office: 353 (0) 749121766| Fax: +353 (0) 749128363