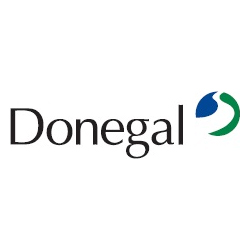 Donegal Investment Group plc ("DIG" or the "Company")
1st July 2015
AGM Statement
Donegal Investment Group Plc held its AGM today. The Chairman Mr. Geoffrey Vance
stated that the Group performance in 2014 had been impacted by the performance of its
Produce division as well as its key associate Monaghan Middlebrook Mushrooms.  Turnover
from continuing operations had decreased by 6.9% delivering adjusted earnings per share of
28.2c. The Produce division has been impacted by high crop yields which resulted in the
oversupply of seed potatoes with resultant downward pressure on pricing and surplus stock
being sold into weak potato/table potato markets.
The Managing Director, Mr. Ian Ireland, stated that the Group's overall performance was on
plan for 2015 and the first six months of 2015 should be ahead of the equivalent period in
2014. Mr. Ireland remains cautious with regard to full year outcome due to the significant
dependency of full year results on the Produce business performance in the final quarter of
the year. While plantings to date are slightly behind due to spring weather conditions they
still remain in line with plan. The speciality dairy business continues to make progress with
its NOMADIC brand with ongoing strong top line growth. A further update will be provided at
the interim results date at the end of August.
The Board remains optimistic about the global potential of the Group's Produce business,
the high growth being delivered in the Group's speciality dairy business and the ability of the
rest of the Group's businesses and assets to provide cash for growth. The Group's balance
sheet remained strong and clearly demonstrates the underlying value for its shareholders.
Mr. Vance thanked all stakeholders for their contribution in the last year and acknowledged
the contribution of Mr. Francis Devenney who retired from the Board today. He also
welcomed Mr. Padraic Lenehan who has been elected onto the Board.
Each of the resolutions proposed at its Annual General Meeting today were approved by
shareholders. The full text of each resolution was set out in the Notice of Annual General
Meeting circulated to the shareholders and available on the Donegal Investment Group
Donegal Investment Group
Ian Ireland, Managing Director Telephone: + 353 74 912 1766
Investec Corporate Finance
Jonathan Simmons, Director Telephone: + 353 1 421 0351